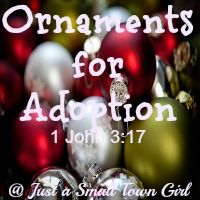 Ornaments for Adoption is the beautiful way my friend, Megan,
is helping the Brock family in their adoption journey.
You can read more about this wonderful family here.
All ornaments are custom made
and the proceeds
are going to make the dream of a family come true.
You can find out more information on placing an order
and
other ways you can help by visiting Megan's website
here
.
Anyone who welcomes a little child
like this on my behalf is welcoming me.
Matthew 18:5